Hi, everyone! Since it's we're in the height of summer, I want to share some of my favorite summer reads. All of these books are fun, but they do have some substance to them.
These are my favorite summer reads (in no particular order):
Two-Way Street by Lauren Barnholdt
This novel is about a broken-up couple named Jordan and Courtney who, despite their current status, still decide to road trip together to the college they are both attending. Two-Way Street is criminally underappreciated and under-read. It's a quick, fun read which makes it perfect for the summer. However, I will say that this book is melodramatic and full of angsty teenagers, so if that is not your thing, I would not recommend this book.
The Sisterhood of the Traveling Pants Series by Ann Brashares
This is such a quintessential summer read. All the novels take place during the summer and follow a group of friends who magically all fit into a pair of thrift-shop jeans despite having very different body types. I love this series. It has its frustrating aspects (I'm looking at you, Lena and Kostas), but the characters are all relatable and following their paths to adulthood almost makes you feel like you're one of them
Whatever Life Throws at You by Julie Cross
Whatever Life Throws at You is sports romance that takes place during baseball season. Here is my full review of the book!
My Life Next Door by Huntley Fitzpatrick
This book is so sweet. It captures first love well and is a quick read. While this book does get heavy, it still captures the warmth and fun of a summer read. I actually recommend all of Huntly Fitzpatrick's books as great for the summer.
Since You've Been Gone by Morgan Matson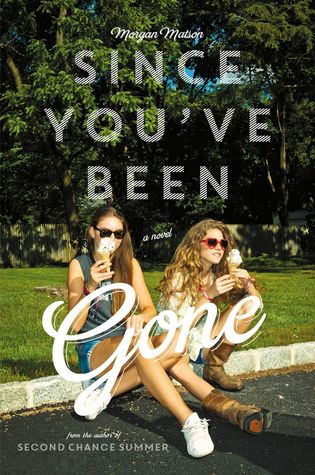 Taking place over a summer, the main character, Emily is forced out of her comfort zone by a to-do list left by her best friend Emily who has disappeared. I read this book in a single sitting the summer it came out, which says a lot given that it's over451 pages. Also, the cover just screams summer.
Thanks for reading!